I purchased the X230 Quad copter kit from hobby king in December. I've been learning to fly it and in the process have been breaking parts.
Hobby king doesn't sell replacement parts so I've been patching it up as I go along. Some of the pieces are getting too broken to be patched. I've created a DXF of the parts and I'm going to have them built out of carbon fibre for increased crash resistance 🙂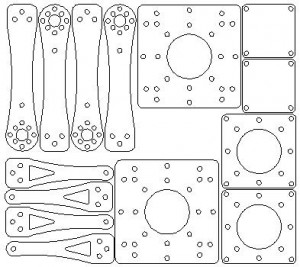 At left is a 1:2 jpeg of the parts. If you'd like the DXF it's here
If you'd like the SVG it's here
Edit: I don't recommend using carbon fibre to prototype this unless you have a laser cutter.