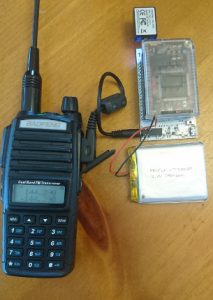 I've had a mobilinkd for a couple of years now and I like the small form factor and the mobility of the device. I've always wanted it to have some additional features such as a connected mode ( either USB or serial ) and the ability to track without the need for a cell phone. Wifi would also be a preferred wireless interface.
I tried using the AP510 to fill some of these features but it's under powered and prone to burning out it's LDO.
At the urging of a friend, Herb, I sat down and designed one that fit our needs.
The hardware feature set we decided on
Arm SOC module running Linux for TNC
Audio/PTT interface for Yaesu and Kenwood/BaoFeng
1W RF module ( could be VHF or UHF )
GPS expansion port
XBee header
For the ARM module we chose the C.H.I.P. by Next Thing Co. I has a nice small form factor and the site claims you can order 1 – 1 million with very little lead time ( it turns out they are limiting you to 5 at a time right now ). A couple of other nice features of the module are WiFi, bluetooth, Lipo charger and 2 USB ports.
I used the same audio/PTT interface as the mobilinkd so I could reuse the audio cables.
We chose the SR FRS 1W for the on board RF interface. It's got a nice small form factor but there are some issues with it's PTT that we are still debugging.
The GPS expansion port is just a slot in the board with serial RX/TX, i2c, 3V3, 5V and GND. I've looked at a few GPS modules but haven't started designing anything yet. Part of the reason I'm holding off is that the side of the board I wanted to put the expansion on would interfere with the USB ports from the CHIP. Until I design a GPS interface module I'm just using a small ND-105 MicroUSB adapter.
I chose the XBee header because there are a number of boards that are already designed for that form factor that support a large number of RF protocols. Now, because of the issues with the GPS expansion slot I might just design a GPS module to plug in there.
Running the audio interface and the GPS dongle from a 2500mAH battery the board can run for about 4 hours. I need to do some optimisation to try and get that into the 8 hours range.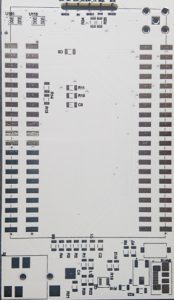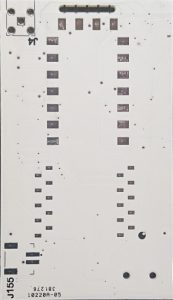 Software features
Debian – standard CHIP install
Direwolf – so the device can function as a TNC/digipeater/X25 modem
Lighttpd webserver for configuration and UI
Host AP and wifi client simultaneously
APRX for viscous digipeating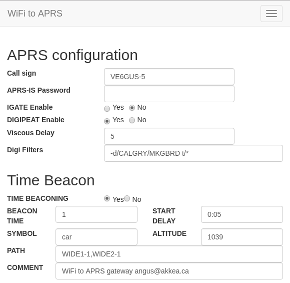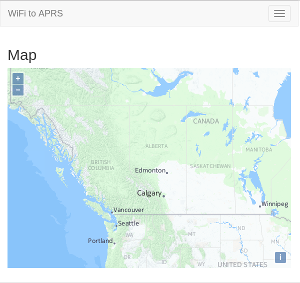 I had to make some modifications to Direwolf to get it to handle multiple TCPIP clients, as APRX, the web ui and a message daemon all share Direwolf.
The UI is written in python using the web.py framework and currently supports these features.
List of recent APRS beacons
Settings for APRX, Direwolf and PTT
Send and receive APRS messages
Maps for to show beacon locations
Display Direwolf logs for debugging
These all need cleaning up but for the most part are functional.
For the message interface a message daemon is needed to store messages for the interface and handle message ACKs. It attempts to re-transmit the message 3 times or until it is properly ACKed. The UI can also re-send failed messages.
I want to add a feature that failed messages will be re-transmitted when the messaged receives a beacon from the intended recipient.
Moving forward
The boards arrived a week ago and apart from a few minor difficulties ( wrong parts, reversed RF module foot prints , you know the usual ) are working working well. So a second rev will be required. But a new rev means new features , right ?

REV2 features
Concurrent RF module and audio interface. The unit could be across band digipeater or repeater
LED TX/RX indicator
Squelch tied to an interrupt for low power modes
The code is all hosted on gitlab right now in a private repo but I'll probably open that up if there are any others interested in helping out.