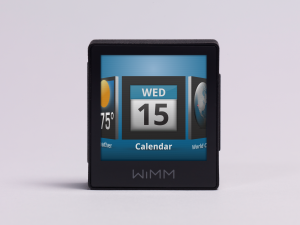 I've been working with this device for about 9 months now. I've been writing some software for a medical accelerometer device for a couple of different research projects. Once the results of those studies get published I'll link to them here.
Pros
Small form factor – 32×36×12.5mm
Lightweight – 22 grams and ~30 grams with the strap
Water resistant – I fully submerged it for about 5 seconds ( accidentaly )
Wifi – used to automatically upload data
adb support – standard
Standard sensors – the module has most of the sensors you'll find in current phones
Cons
Poor battery life – never more than 48 hours
Incomplete Sensor API implementation – Accelerometer problem
Cloud based configuration – should be an option not a requirement
power  button – the module needs to be removed from the strap to get to the power button
Of all of the small form factor android devices I've been working with this is my favourite. As a developer device it's great as it has all of the hardware sensors you'll have in a phone and lots of great code examples. The hardware form factor is also interesting because of its's size and that and i2c interfaces is accessible.
As a consumer device it still has some annoying quirks. I've never had the battery last more than 48 hours and typical was around 36. A watch that needs plugging in everyday has limited usefulness in my book. For my particular application it wasn't a problem as it wasn't ever used untethered for extensive periods.
Data entry is one of the most painful experiences on this device. I'm not talking about writing a novel here just try to get a wpa key entered. It's got a rotating dial with the alaphabet and numbers, takes a long time to get from Aa to Zz.
Unfortunately it looks like it may no longer be being produced. Ted Ladd who was head of WIMM Developer Relations now lists his job as a university professor. I also contacted WiMM and they've stated "We've decided to move in a different strategic direction, which I can't discuss". I hope it's a WiMM two.
Edit:
It looks like WiMM is discontinuing their support for WiMM one developers. I found a version of the WiMM addon package.  I also did a recursive get of the documentation before they take that down. I also have a copy of their "Opensource Package"
Here are the sdk and the usb setup instructions for windows.